ColorView IIIu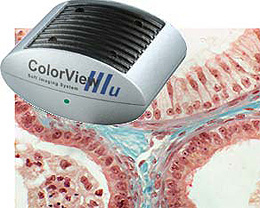 Soft Imaging System의 디지털 카메라는 디지털 이미지 획득의 기대에 부응하여 꾸준히 대응하고 있습니다.
ColorView IIIu는 광학 현미경을 위한 칼라 카메라 시리즈의 최신작 입니다.
ColorView IIIu는 생명과학(Life science)  및 Biomedicine의 모든 응용 분야 뿐만 아니라 재료 과학 (Materials sciences) 분야에 동등하게 적용할 수 있습니다.
Extraordinary features…
are what make the 5 MegaPixel color camera ColorView IIIu so distinctive. Alongside its extremely high resolution camera has a high dynamic range, high frame rates and color binning. The color fidelity and superior contrast of acquisitions made using the ColorView IIIuare what users find so compelling. At the same time, the camera has an excellent signal-to-noise ratio. The standard C-mount adaptor ensures that installation is easy on all common microscopes. Data transmission to the PC is via FireWire™ interface (IEEE 1394).
Perfect images…
easy to use and full software operation due to integration of all camera functions within theanalySIS® image-analytical software. "Digital Live Processing" is integrated into analySIS®and offers numerous real-time functions which ensure that the camera's entire dynamic range is exploited. Furthermore, analySIS® has IntX (Intelligent eXposure) – an integrated solution for easy-to-use and automatic exposure control. This makes acquiring top-quality images at the mere click of a button easy for all users. No extensive technical background is required.
And after acquisition…
the ColorView IIIu's full integration into the analySIS® software provides all the capabilities and advantages of advanced image processing. There's an extensive image-labeling-and-filtering library, professional particle analysis, well-structured image and data archiving as well as report generation for professional documentation.

Depending on options, analySIS® expansion level and
 
 Real-time automatic contrast control
 Real-time automatic white balance
Specifications
Image Device
2/3 inch Color CCD Sensor
( 9.74 x 7.96 mm array)
Effective Pixels
2576 x 1932 pixel, 3.4 um square pixels
Frame Rate
3.8 fps @ full resolution
7.3 fps @ 2x-binninb
14.4 fps @ 4x- binning
19.2 fps @ 6x- binning
Binning
2x, 4x, 6x (color)
Dynamic Range
3 x 8 bit
Exposure
1 ms ~ 10 sec
IR Filter
Hoya CM 500 S (green)
Dimensions (W x H x D)
100 x 85 x 50 mm
Mass
570g
Interface Connector
FireWire (IEEE1394)
Lens mount
Standard C-mount