The pE-100 offers:
Broadest LED spectrum available: 365-770nm – replaces metal halide or mercury
Compatible with existing single and multi-band filter sets – no need to buy new filters
Instant on/off  – no shutters required, no warm up or cool down
Simple to fit, simple to use – no alignment, a once only adjustment
Stable & repeatable – reliable and consistent results
Wide range of microscope adaptors – fits most microscopes
Precise intensity control in 1% steps (0-100%) – no ND filters required
Excellent uniformity over field of view – fixed and stable, no alignment necessary
Long lifetime – expected to exceed 25,000 hours of operating time
CoolLED pE-100
The pE-100 system has been developed for fluorescence applications requiring a single LED excitation wavelength.  It is perfect for clinical applications such as routine screening (e.g. using Auramine for Tuberculosis), for research applications requiring precise intensity control and fast-switching, or for electrophysiology applications where light has to be delivered to a specific location.  The user can select from 20 different LED wavelengths, ranging from the near-UV at 365nm to the near-IR at 770nm.  The system comprises a pE-100 LED Light Source, control pod, and power supply.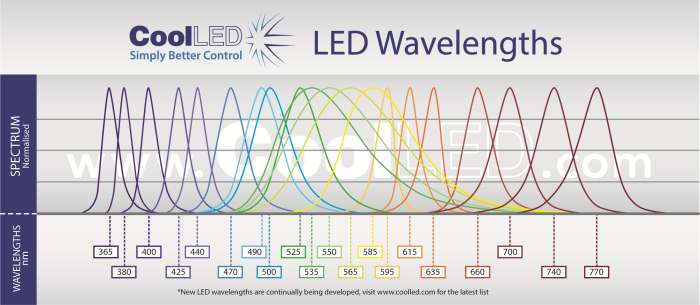 There are three standard pE-100 configuration options:
Direct-fit
(pE-100) for connecting to a microscope (epi-port) by selecting from a range of microscope adaptors  which covers all current and most older models.  A simple once only adjustment will allow optimisation to the optical path of the microscope.
Liquid Light Guide
(pE-100light guide) with a fixed 3mm diameter, liquid light guideFiber
(pE-100fiber) with an SMA connection for accepting multimode fibers.  The pE-100fiber has been designed with efficient coupling into a wide range of multimode fibers.  The pE-100fiber also includes excitation filter holders.
Combining pE-100s:
Direct fit configuration
pE-100 units can be combined using the pE-Combiner for applications requiring a second LED wavelength with independent control and triggering.
Liquid light guide or multimode fiberusing a fixed two wavelength configuration can be specified.  Two pE-100 Light Sources are combined, providing independent control and triggering. For further information go to the Downloads tab