CoolLED pE-4000
Overview
NEW GENERATION LEDs The pE-4000 sets the standard as the universal illumination system for fluorescence microscopy.  The system has 16 selectable LED wavelengths across 4 channels that can be matched to the filters and fluorophores of almost any microscope, making it the broadest spectrum of illumination available.
The CoolLED pE-4000 now benefits from our award winning sustainable Greentechnology and delivers enhanced intensity at your microscope sample plane with a significant reduction in energy consumption, and is supplied with a 3 year warranty after registration.
The NEW Enhanced pE-4000 is a powerful 4-channel high-specification LED illumination system. It is flexible, controllable and environmentally friendly.  Benefits include:
SELECTABILITY
Choice of 256 wavelength combinations from 16 installed LEDs (365nm -770nm)
Choose 1 of 4 wavelengths for each 4 channels on the control pod
Unique wavelength grouping concept (see below)
Optimum wavelength to suit your experiment
Specific wavelength characterisation for optimal optogenetic control of cell responses
Wavelength Grouping Concept
As the first company to introduce LEDs into fluorescence microscopy, CoolLED has developed a comprehensive understanding of the complexities of configuring and selecting filter sets for samples which have multiple stains.  These 'multi-band' filters must have a corresponding absorption and emission band for each stain and the bands must be kept spectrally separate to ensure there is no overlap.
DAPI/FITC/TRITC/Cy5 Quad filter excited by pE-4000 at matched wavelengths shown above.
CoolLED's innovation comes from recognizing that all the stains used in multi-band work can have their absorption bands divided into four separate groups across the spectrum due to the restricted bandwidth available.  This has allowed the development of a patent-pending, wavelength-grouping concept which makes it possible to deliver more power in an efficient four channel system.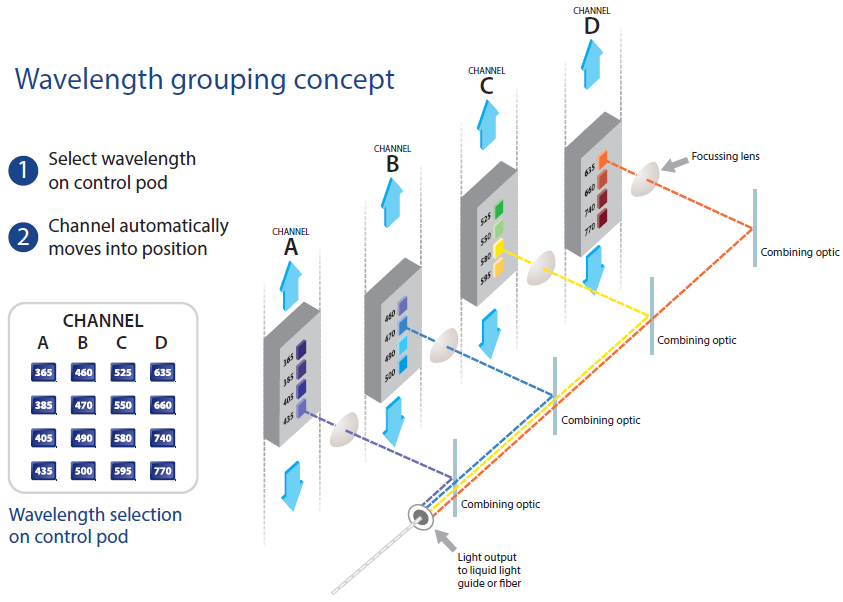 With its unique 16 selectable LED wavelengths, the pE-4000 ensures optimum compatibility with all single and multi-band filter sets.  The flexibility and extensive functionality of the pE-4000 broadens the range of illumination options in core facilities.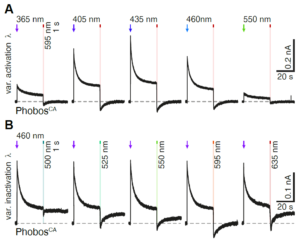 The pE-4000 allows multiple experiments with varying wavelengths on the same sample , as shown here.
(A) Representative photocurrent traces of a PhobosCA expressing CA1 cell evoked with different activation wavelengths and shutoff with 595nm light
(B) Photocurrent traces in the same cell evoked with 460nm light and shutoff with indicated wavelengths (10mW/mm2)
Wietek et al (2017) Anion-conducting channelrhodopsins with tuned spectra and modified kinetics engineered for optogenetic manipulation of behaviour,  Scientific Reports volume 7, Article number 14957(2017) doi: 10.1038/s41598-017-14330-y
SUSTAINABILITY
Lowest Power Consumption – other LED technology uses 120-350 Watts
>25000 hours operation
Highly stable, repeatable LED technology
Market leading energy efficiency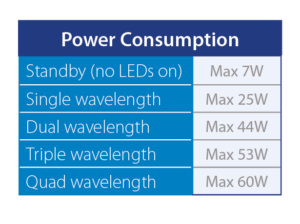 CELL VIABILITY
Optimal illumination through control features to extend fluorescence of cells
Reduced photobleaching and phototoxicity
Microsecond switching
Variable pulse duration on/off
"When you can only control intensity of 'white' light (rather than individual channels), the level of photobleaching can be high.  With the pE-4000, we can control the excitation of the individual channels.  It is possible to optimise the excitation intensity according to the labelling, greatly reducing photobleaching and phototoxicity in a live experiment."    Dr Yan Gu, University of Sussex
"Suddenly, we were able to offer users uninterrupted extended live cell experiments of 100+ hours, without worrying about brightness fluctuations, lamps burning, room heating, etc. Also, users have reported markedly reduced bleaching and phototoxicity in their samples, both from the prokaryotic and the eukaryotic research fields."     Dr Jens Eriksson, Oslo University Hospital
CONTROLLABILITY
Advance integration into major microscope software platforms
Save wavelength combinations and return to previous set-up
USB interface
High speed TTL Triggering
Analogue control – dynamic intensity sinusoidal control option
White light control
Expansion Box
Individual channel intensity control
Pre-determined intensity saving option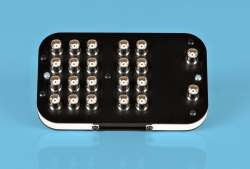 VISIBILITY
High signal to noise ratio which gives cleaner images and data
"Striking, bright fluorescence images with a strong signal to noise ratio even when using a low magnification objective" 
Graham Wright, Institute of Medical Biology, A*STAR Singapore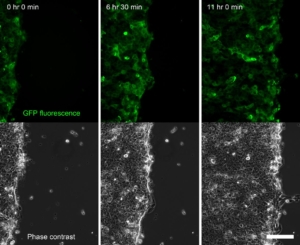 Time series of a confluent sheet of keratinocytes migrating during a live-cell imaging outgrowth assay, acquired on an Olympus IX-83 microscope equipped with a CoolLED pE-4000 lightsource (Fig. 4). Scale bar = 150 μm
ADAPTABILITY
Fits to all major research and clinical microscopes
Delivers light through a liquid light guide or fiber
Offers inline removable excitation filter holders
Uses the Universal Collimator
RELIABILITY
Assured through experience and QA assured processes
3 year Warranty after registration
First year Warranty swap
The compact pE-4000 Light Source houses all the LEDs, their combining optics, thermal management and control electronics.  A dual mode control pod gives manual control in either White or Advanced modes.  Light is delivered to the microscope by either a single liquid light guide (LLG) or fiber.  LLGs can be used in conjunction with CoolLED's pE-Universal Collimator which can accept a microscope adaptor from CoolLED's extensive range.