"analySIS Five" Module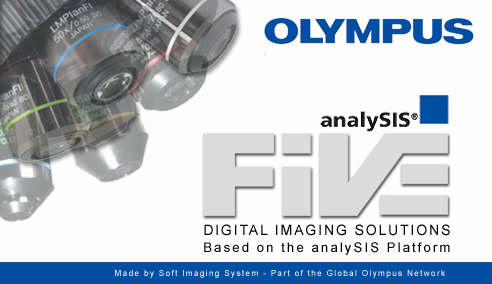 Cast Iron
analySIS Five imager 이상의 제품에 Module을 추가 할 수 있습니다.
castIron is the software specially designed to analyze gray iron. It measures the shape and size of graphite, as well as the ratio of ferrite to perlite. Both of these measurements meet the requirements of well established national and international standards like EN-ISO and ASTM.
All functions support either automatic or manual operation. The implementation of individual company standards is supported.
Analysis of cast iron according to standards
castIron uses modern image-analytical multiclassification algorithms. Each graphite particle is automatically recognized and classified with regard to its shape and size. Results are presented either according to · ASTM A 247 · JIS G 5502 · EN ISO 945 or · GB 9441-88.
Switching on the detailed analysis option enables the calculation of additional size and shape factor distributions. These are outputted in sheet and diagram format.
The ferrite and perlite fraction is calculated with the graphite content taken into account. The automatically generated result sheets and diagrams can be outputted in different formats.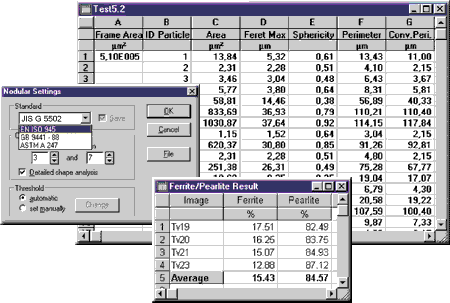 All settings of castIron are saved to profiles and therefore easily adaptable to different preparation techniques or report requirements.
castIron is completely integrated into the analySIS®image analytical software. This integration ensures that the whole evaluatory process – from image acquisition to the completed report – is fully automated.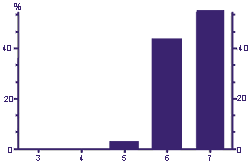 castIron automatically sets thresholds and therefore detects graphite particles immediately. The graphite particles can be classified according to predefined standards. A detailed shape class statistic is included to achieve highly precise and reliable reults. To rule out any statistical or specimen-related error, castIron supports the fast and efficient evaluation of a great number of images for one analysis.
Ferrite to perlite ratio measurements are corrected for the graphite sample. Corrections can be made using either a manually inputted constant graphite value or the result of a preceeding graphite measurement.
castIron can operate fully automatic when using the analySIS® AutoMater. A simple push of the button, and all images are acquired, evaluated and the report is generated.
Specifications
automatic evaluation of cast iron with regard to size and shape of the graphite
all common norms supported (ASTM A 247, JIS G 5502, EN ISO 945, GB 9441-88)
integration of individual industry and company norms
detailed shape and size class statistics
determination of ferrite and perlite proportions regarding graphite content
graphite content immediately updated via most recently conducted measurement – at the push of a button
automatic generation of norm-adapted report
all settings saveable
entire evaluatory process is fully automated
integrated in analySIS® 3.0 and higher
Layer Thickness
analySIS Five imager 이상의 제품에 Module을 추가 할 수 있습니다.
Surface coatings protect materials from corrosion and wear. Specially applied coatings provide materials with new properties.
These might be decorative coatings or insulatory and anti-corrosion coatings as well. Other kinds of coatings alter hardness locally.
Soft Imaging System offers a series of solutions for determining the various thickness parameters. The analySIS® add-in ltm (layer thickness measurement) offers efficient coating-thickness measurement and crack analysis.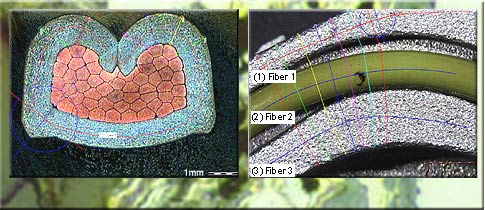 The concept
ltm is mainly a tool for manually determining layer thickness for analyzing porous or compact coatings but also provides highly precise measurement of crack widths. The add-in supports any layer geometry with no restrictions to straight lines. ltm measures layer thickness(-es) of single and multiple coatings of a cut specimen using the concept of neutral fibers which predefine the direction of the measurement.
Measurement options and data handling
When measuring, ltm is capable of following the contours of arbitrarily shaped surfaces. The software tracks the crack or the shape of the contour of the coating and provides the calculated data results immediately. Several measurement features such as layer-thickness values for each layer, average values, minimum and maximum values or standard deviation and a tolerance control are available.
Fully integrated
The full integration of ltm into the analySIS® software provides all the capabilities and advantages to successfully face the challenges of image processing and analysis. All relevant images, evaluation sheets and diagrams can be stored in the structured archiving system with one mouse click following layer thickness measurement. Using drag&drop functionality for images, sheets, diagrams and database content, the report generator lets you create professional reports from the archived data within seconds.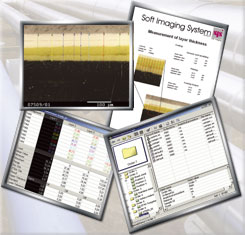 Specifications
Convenient tool for measuring layer thicknesses in cross sections

Supports any layer geometry and orientation

Supports multiple layers – coherent or not coherent

Concept of neutral fibers for high precision measurements

Multitude of neutral fiber definable

Result sheet includes statistics

Support of tolerances for every single layer ("OK- Not OK" evaluation (if tolerances are specified)

Layer structures can be saved for later use including all parameters

Fully integrated into analySIS® (image acquisition, image processing and analyzing, structured archiving, reporting)