analySIS Five
"analySIS"제품은 세계적으로 유명한 독일의 영상분석 전문업체인 OLYMPUS Soft Imaging System(OSIS) 사에서 제작한 최첨단 영상분석 프로그램입니다.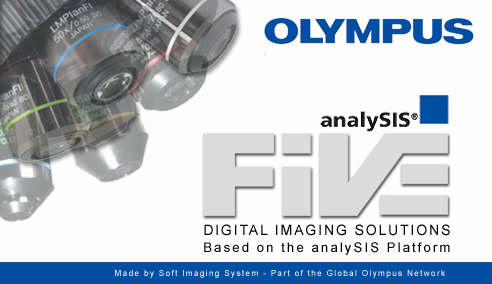 OLYMPUS Soft Imaging System사는 1987년 설립된 후 2006년 4월 OLYMPUS의 일원이 되었고 광학 현미경 및 전자 현미경용 분석 소프트웨어 및 디지털 카메라 제품을 포함한 영상분석의 모든 솔루션 제공하고 있으며 유럽을 중심으로 다양한 분야에 사용되어 전세계의 많은 영상 분석 전문가와 연구진에게 사랑과 신뢰를 받고 있습니다.
주로 금속, 반도체, 전기, 전자, 자동차과 같은 정밀한 측정을 필요로 하는 산업용 image analyzer인 analySIS five는 다음과 같은 등급으로 구성되어 있고, analySIS five imager 이상의 등급부터 필요한 module을 추가하거나 제품을 upgrade할 수 있습니다.
ruler : analySIS five의 가장 처음 등급이지만 강력한 측정 기능을 제공합니다.
imager : analySIS five의 두번째 등급으로서 ruler의 모든 기능과 data base, report 기능이 추가 되었습니다. 또한 imager 이상의 등급부터 필요한 module을 추가하거나 제품을 upgrade할 수 있습니다.
docu : analySIS five의 세번쩨 등급으로서 imger의 모든 기능과 Multiple Image Alignment (Mia), Extended Focal Imaging (efi), Graph 기능을 제공합니다.
auto : analySIS five의 네번째 등급으로서 docu의 모든 기능과 Particle analysis(detection:입도분석), Automater / Stage control의 기능을 제공합니다.
pro : analySIS five의 최고 등급으로서 auto의 모든 기능과 fft (fast fourier transformation), imaging C, act (automatic caliper tool), interCept 등의 기능을 제공합니다.
OLYMPUS Soft Imaging System 사의 최신 영상 분석 프로그램인 "analySIS Five" 시리즈는 사용자에게 정확하고 신뢰성 있는 데이터를 얻게 해 줄 것 입니다.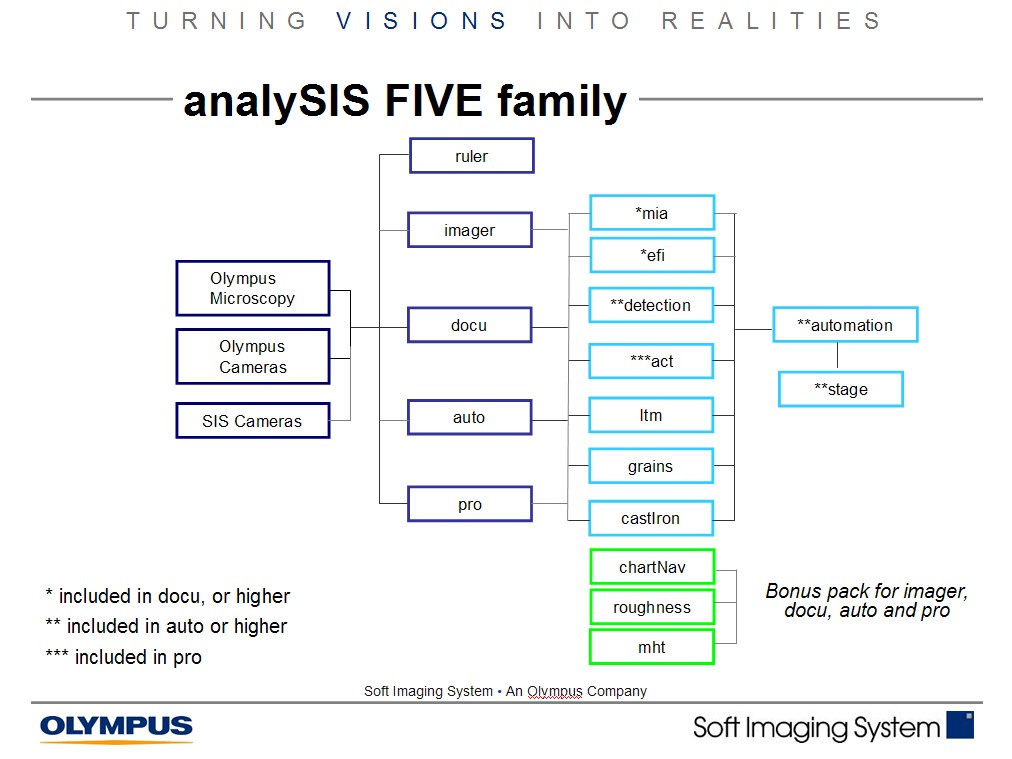 analySIS Five ruler
analySIS Five ruler는 analySIS Five Series의 기초 프로그램으로서, 사용자가 불필요한 기능을 삭제하여, 간단하게 측정을 할 수 있는 프로그램입니다.
Acquisition
여러 종류의 카메라를 연결 상황에 맞게 카메라를 연결하여 사용할 수 있습니다.
New Channel
카메라에 채널을 두어 화면 캡쳐시 다수의 카메라 속성을 두어 측정 할 수 있습니다.

Configure Input
카메라의 속성을 변경합니다.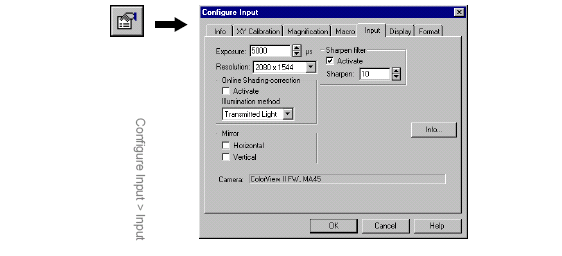 User Interface
전문가를 위한 인터페이스 방식으로 한눈에 알 수 있는 구조입니다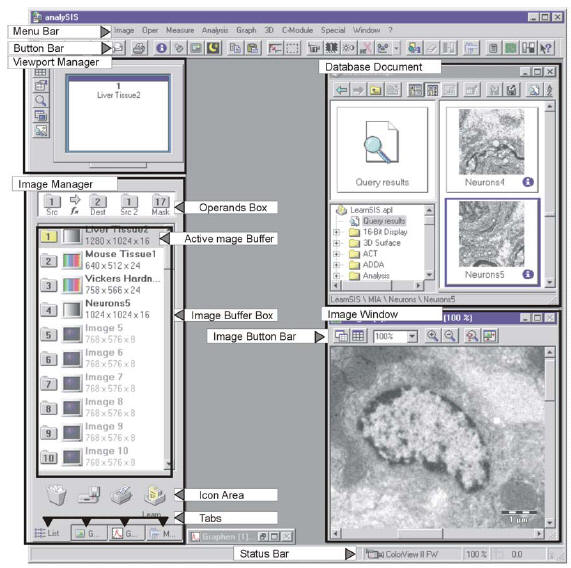 Measure
강력한 Magic Wand 기능을 자랑합니다.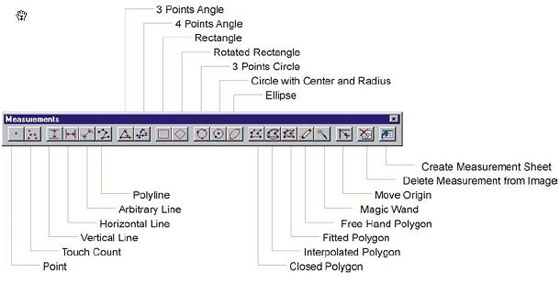 analySIS Five imager
analySIS Five imager는 analySIS Five Series중 analySIS Fiver ruler을 기본으로 몇 가지 기능을 추가한 프로그램입니다. analySIS Five ruler가 꼭 필요한 기본 기능이라면, analySIS Five imager는 레포트 작성기능과 DataBase등의 부가 기능을 지원합니다.
DataBase
기능
defining or editing fields

deleting the database

defining a database password

changing image and document paths

changing the standard image format
Data types
Text: letters and numbers up to a maximum of 255 characters.

Long: whole numbers, e.g., -10, 0 or 500.

Double: whole numbers and fractions, e.g., 1.2 (whether a comma or a period is used for decimal fractions depends on the local settings of your operating system).

Date/Time: The permitted date and time formats depend on the local settings of your operating system.

Memo: any length texts

Yes/No: For fields of this data type there is either the status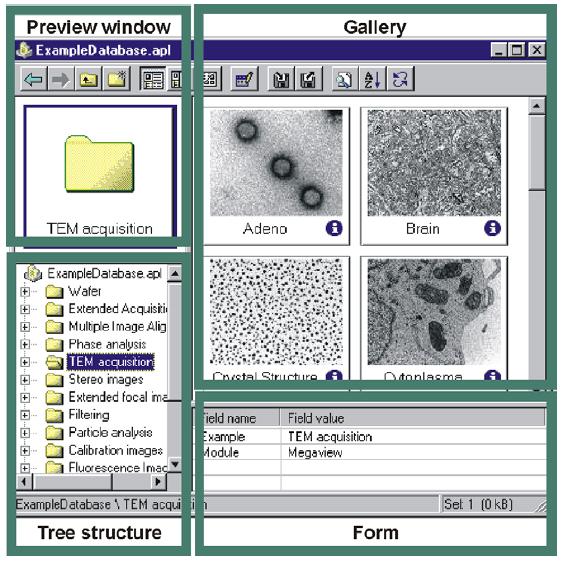 Report Generator
기능
Use report generator to have multi-page reports produced practically automatically,
including images of a database or of the image manager. Select a number of, (or lots
of) images from an image database and have them all added to a report using a single
command.


Full database-integrated access
Along with the images themselves that you get out of a database, you can have all additional information on the images (contained in database fields of image databases) automatically included in a report. Sheets with important measurement results can also be automatically filled in.


Working with images
A particular focus of report generator is being able to work with images in an optimal way: norm enlargements are followed; detail zooms can be inserted; appropriate image segments can be selected; and more.


Texts, Sheets, Diagrams, Graphs
Most types of documents that you generate within your image analysis program can be inserted into a report. Via report generator, you can, e. g., print out images along with related measurement sheets and diagrams on the same page.


Flexible Page Layouting
Report generator provides you with the most flexible page layouting imaginable: you set up your own template pages exactly the way you want them to be. You generate your template pages only once. These templates are the basis for your reports and ensure that the appearance of your documents is uniform.


MS Word compatible
Via the RTF Export function, you can have reports exported to MS Word 1:1. This enables you to communicate with fellow colleagues who may not have access to your image analysis program.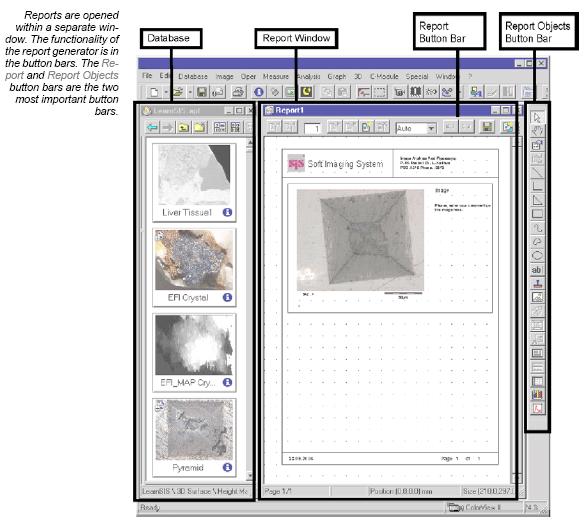 예 1)

예 2)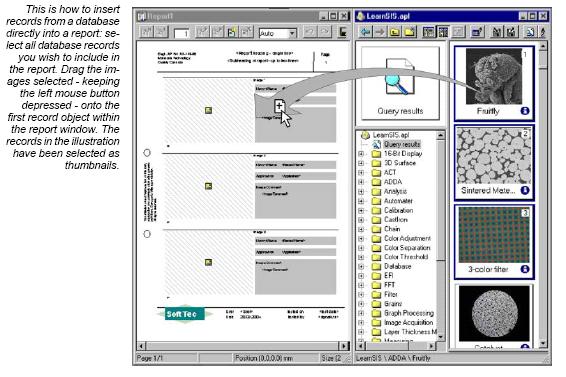 예 3)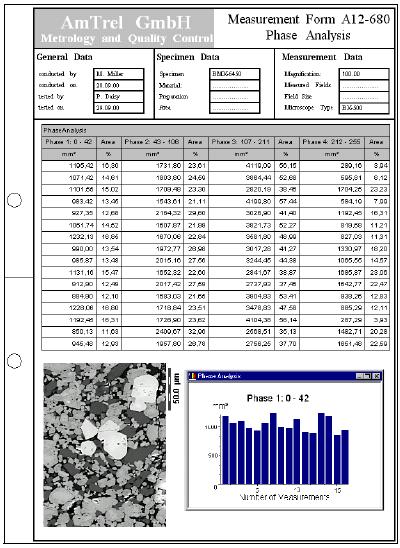 analySIS Five docu
analySIS Five docu는 analySIS Five Series중 analySIS Fiver imager를 기본으로 몇 가지 기능을 추가한 프로그램입니다. analySIS Five docu는 다음 분석이 가능합니다.
Dual Screen System
두 개의 모니터를 사용하여 넓은 화면으로 이미지의 분석 효율이 높아집니다.
Graph
그래프 기능으로 레포트에 충실한 자료로 당신의 레포트 질을 높일 수 있습니다.
fis (Fast Image Acquisition)
고속으로 이미지를 획득하여 빠른 변화를 손쉽게 저장할 수 있습니다.
Stage Navigator
Stage Navigator를 이용하여 원하고자 하는 포인트를 지정하여 빠르고, 정확하게 확인 하실 수 있습니다.
With the Stage Navigator you can acquire overview images of a sample and use them for a precise navigation. This assures that you always know your exact location on the sample. You can recognize interesting areas in the sample, move to them in the live-image, and acquire images with a higher magnification. In the overview image, a "grid within a grid," enables you to recognize the areas you have acquired with a higher magnification.
You can deactivate this display if you want to.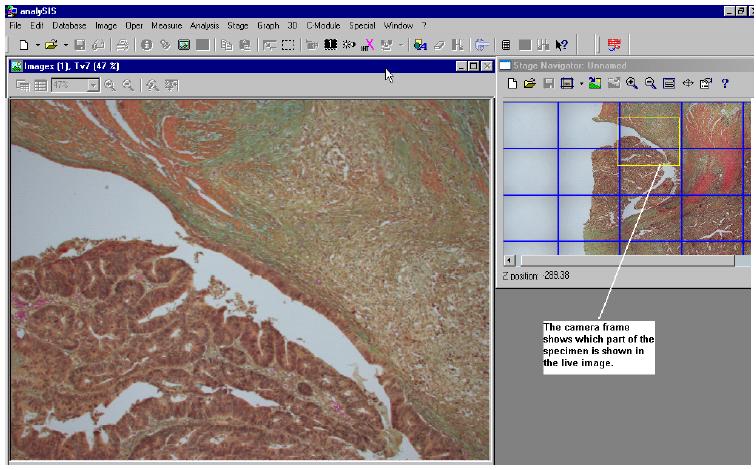 MIA (multiple image alignment)
여러장의 사진을 합성하여 넓은 영역을 하나의 파일로 만들어 편리한 관찰이 가능합니다.
Mia works with both monochrome and color images, supports the entire number of file formats in analySIS®, and includes an intelligent image acquisition mode with automatic calibration of the camera and camera and/or image rotation.
Once this has been defined, all you need to do is to make a decision about the required image size and resolution. Stage movement, image acquisition and the computation of the optimum overlap are done automatically by the software.
To effect the image montage, the individual images have to be aligned with sub-pixel accuracy. Mia achieves this through intelligent pattern recognition techniques and plausibility checks within the overlap areas.
The resulting image has the same resolution as the individual images but is larger. It has more lines and columns. It thus represents an image that could not be acquired without Mia with high resolution and large field of view.
How does Mia work?
1. The integrated image acquisition control allows the automatic acquisition of individual images; image rotation and stage displacement are automatically determined.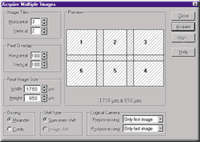 2. This example uses six individual images for the Mia process. There are no limits to the number of images Mia can process in one session. The number of images you actually use is dependent only on the storage capacity of your computer
3. After image acquisition, you can manually determine the number, pattern and correlation of the individual images. In the case of automatic image acquisition, these parameters will be preset for you.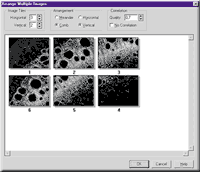 4. After Mia has processed the images, the overlap areas can be adjusted automatically for differences in intensity.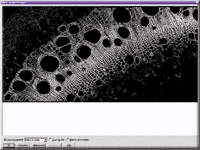 The result of the Mia process: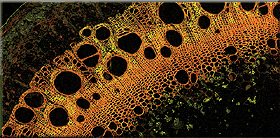 Image size:
2159 x 1062 pixels in 24-bit true color.
Nine image sections, each 1024 x 1024 pixels in size, automatically stiched together by the module Mia.
The high resolution 3300 x 3300 pixel sized full view image shows healthy and degenerated nerve cells.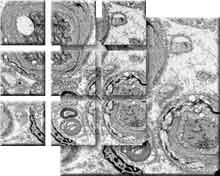 EFI (extended focal imaging)
Focal depth 가 다른 이미지를 하나의 이미지로 합성하여 또렷한 이미지를 얻을 수 있습니다.
Microscopy at unlimited depth of focus
By using the efi module, you can solve a known and limiting problem of light microscopy: Microscopes in general have only a very limited depth of focus. Details which are visible in separate images with different focus settings are normally not visible in one single image.
efi records images with different focus settings and extracts those parts of the image that are in focus. Mounted into a single image, these details combine to create an image with unlimited depth of focus.

efi supports the automatic montaging of both color and b/w image series. Optionally, you can reconstruct a height map from these images. Used in live mode, efi provides both a live image as well as the partially reconstructed image. Missing details can be focused interactively and added to the current image.
efi automatically aligns images that show a lateral displacement, such as if the images were taken with a stereo microscope. An optional motor stage control provides the added advantage of automatic image acquisition and efi processing.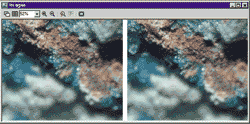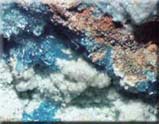 efi circumvents the physical limitations of a microscope regarding its depth of focus. A number of images are recorded, each one with a different focus setting. The parts of each image that are in focus are extracted and combined into a single, focused image.
efi allows the combination of images with lateral displacements caused by different focus settings. This is a common effect when using a stereo microscope to capture the images. Before calculating the efi image, an integrated pre-alignment step shifts the images so that they overlap perfectly. Only after this alignment has been achieved does efi calculate the final image.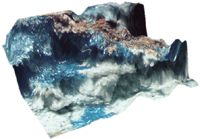 efi provides the option of calculating a height map from individual images. This height map can be used to produce a 3-D representation of the object. As an optional feature, the efi image can be used to texture the height map, creating a realistic topographic representation of the object's surface.
A number of powerful functions for animating the 3-D structure within analySIS® enable the user to study the object from an optimal angle and position.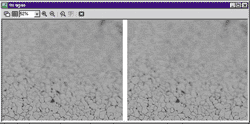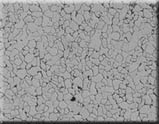 Recombination of a focus series of a metallurgical sample. The recombined efi image is necessary for conducting advanced analysis.
efi allows the concurrent visualization of the live image directly from the microscope and the current recombined image. Areas that are still unfocused can be added interactively.
A simple addition of more images, even if the original acquisition was finished, allows adding further focused details to the image.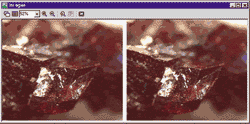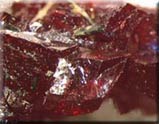 analySIS Five auto
analySIS Five auto는 analySIS Five Series중 analySIS Fiver docu를 기본으로 몇 가지 기능을 추가한 프로그램입니다. analySIS Five auto는 강력한 Detection기능을 제공하여 다음 분석에 적합 합니다.
Detection
이미지에서 원하는 영역을 설정하여 자동으로 개체 분석을 합니다.
Detection can be applied to an entire image or restricted to areas with a frame or within ROIs. How border particles are treated is something users can decide themselves. The particles detected can then be evaluated according to an extensive array of parameters and then be automatically classified. Logical connection of particle parameters is also supported.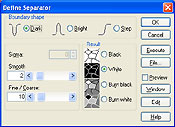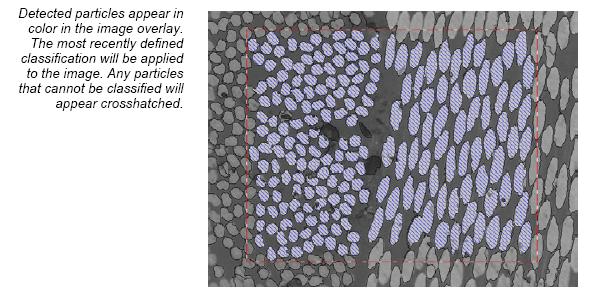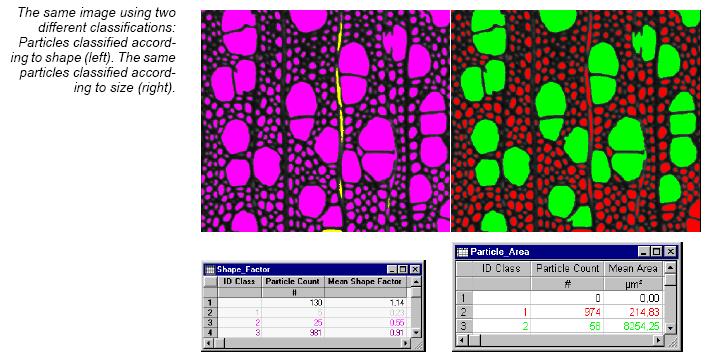 automater / stage
Stage controller 를 이용하여 사용에 편리함을 더합니다.
Our stage drivers support stages from the following manufacturers:
· A+S
· Applied Scientific Instrumentation (ASI)
· Deben
· Fjeld
· Galei
· ITK
· LEO TEM stages
· Linkam
· Ludl
· Märzhäuser
· Micos
· Objective Imaging Ltd.
· Olympus AX70 stage
· Philips CM and XL stages
· PRIOR
· SESAME
· Thermo Nicolet
isp (Image Sequence Processing)
Controlling position, sequence and time interval …
In recent years, the investigation, documentation and analysis of living tissue and /or dynamic processes has emerged as an issue of primary importance. One of the core applications, eg, is the investigation of GFP-labeled cells (Green Fluorescence Protein). Multiple labeling of the cells is possible via mutations of the GFP. Light microscopy exploits these technologies using time-lapse and multichannel fluorescence microscopy.

In order for you to be able to acquire and process automatically, a number of processing functions with regard to the microscope are necessary: autofocus; automatic adjustment of the image frame in live observation of GFP-labeled cells (tracking); acquisition of images at different focus positions (z-stacks); and the automatic calculation of an extended focus image based on the z-stacks.
The isp add-in was developed with these requirements in mind. isp controls the entire acquisition process including hardware components such as microscope, cameras and motorized stages. The isp add-in guarantees the exact definition and execution of image acquisition in terms of timing and positioning.
isp and time-lapse image acquisition
isp provides the necessary functionality for time-lapse acquisition. Both the number of images, as well as their temporal sequence can be defined. Each sequence can use different cameras or input channel definitions.
isp and a motor stage
If a supported motorized stage is available isp can move to various positions and cycle through image-acquisition sequences. This feature can be used to define multiple positions on a sample where each sequence has its own acquisition parameters, camera settings and techniques, and to cyclically repeat the acquisition for each position according to a user-defined interval.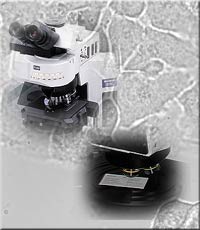 isp and motorized microscopes
isp is completely integrated into the analySIS® software and can communicate with communication-enabled microscopes via a variety of interfaces. This allows isp to control illumination conditions, the filter and objective positions and so on, for each sequence.
isp and macros
isp also includes sequential pre- and post-processing steps for controlling external devices such as shutters or monochromators.
isp and animation
All image sequences can be stored in a database for later retrieval and analysis. isp includes an animation studio for processing and displaying these sequences. The acquisition times are displayed in the overlay. It is also possible to look at the same sequence in multiple viewports, or to run multiple sequences simultaneously. Sequences can, of course be exported as AVI files.
isp and fluorescence microscopy
isp and the mFip analySIS® add-in are fully integrated. This provides options for acquiring and processing sequences that enable you, eg, to combine fluorescence and brightfield images.
isp and process control
isp includes an automatic process control tool. The times necessary for acquisition and processing are shown in a special dialog box which also includes a "test" button for checking and calculating the time required for the sequence. To avoid problems with memory usage during long, unattended processes, isp can estimate the total required space and will give you a warning message should it exceed the space available.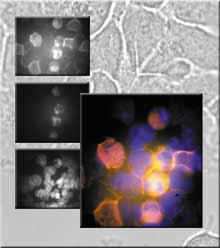 isp complex
It is of course possible to combine individual processes and sequences and to set up complex, automated processes ranging from time-lapse and motor-stage-controlled image series and including fluorescence and microscope control.
isp and analySIS®
Due to its complete integration into the analySIS® software, the user not only has access to all automatic and manual measurement functions and all image processing features, but also to all add-ins supported by analySIS®. Via the integrated image database, the images (including all available information on imaging conditions) are tracked. A report generator provides everything for preparing professional presentations, which can be e-mailed directly from analySIS® to colleagues or publishers of scientific publications.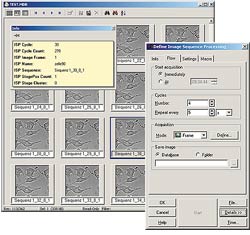 wellNav (Well Navigator) Convenient and flexible
The WellNav application supports the simple and fully automatic scan of standardized microtiter plates Integrated calibration routines for offset and slant correction of the microtiter plates together with the integrated motorized stage control guarantee exact alignment and positioning. The software includes an Experiment Manager to easily define complex work processes. These are established just once and then executed via the push of a button. Process series include complete microtiter plates, single wells or even clusters of wells.
analySIS Five pro
analySIS Five pro는 analySIS Five Series중 가장 강력한 기능을 제공하며 다음 분석에 적합합니다. 
ACT (Automatic Calliper Tool)
ACT performs complex, repeatedly applied measurement sequences automatically as well as measurements made within images.Any displacement of measurement objects within an image is automatically taken into consideration during measurement.ACT detects edges within images and calculates coordinates, intercept points, angles, radii and distances based on these edges.The geometric elements determined in this way can be linked via further measurement rules.In the learn mode, measurement sequences of varying complexity can thus be defined and saved as profiles.
InterCept
InterCept conducts quantitative image analyses according to the intercept method.Detection of intercept points includes support of edge algorithms as well as segmentation.Multi-phase evaluation is supported. Entire images or user-defined image segments can be analyzed. A large variety of line patterns are available.InterCept offers integrated preview functions for intercept length and related histograms.Results may be classified according to intercept length, distance to reference points and lines.Evaluation and classification can be done using original measurement data or modeled data or done using, for example, the Saltykov method ('slice model') or g value.
TrackIT!
TrackIT! analyzes motion.Motion analysis is based on time-lapse series of images (image stacks or exported isp sequences).TrackIT! searches for and detects objects within images of a time-lapse series and then automatically determines the respective difference in location.The software provides motion images of particles, sheets and histograms showing the characteristic motion data such as speed, directional information, track length and distance.In addition, all positions – P (x, y, t) – of each object in motion are available for further analysis.
Imaging C
Imaging C provides users with the C programming language and high-performance image-processing libraries containing more than 8000 commands.Windows API commands and commands from external DLLs are supported.This software extension includes a compiler and a debugger. Programs created using imaging C can be run in analySIS®.