ColorView I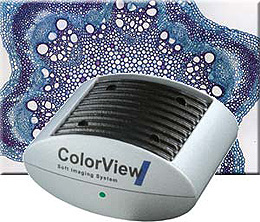 Soft Imaging System의 ColorView I 은 광학 현미경용 330만화소의 칼라 카메라 입니다.
이 칼라 카메라는 극도의 고해상도, 온도 안정, 높은 프레임 속도, Partial 리드 아웃 및 흑백 획득 모드의 기능을 FireWire (IEEE 1394)을 사용하여 제공합니다.
ColorView I은 높은 정밀도와 컨트라스트, 저 노이즈의 최고 품질의 이미지 동시에  생성합니다.
analySIS 이미지 분석 소프트웨어와 완전히 통합되어 biomedical과 materials science 응용분야의 적용이 가능합니다.
Digital solutions – Developed to be exceptional!
Soft Imaging System's digital cameras meet the steadily rising expectations being placed on digital acquisition. The 12-bit ColorView I – equipped with FireWire™ technology (IEEE 1394) – is for use in the field of light microscopy.
The ColorView I makes it possible to acquire high-resolution color and black-and-white images, rich in detail and contrast with low noise. And the truly astonishing thing is how easy this high-performance camera is to use – just as easy as any regular video camera.
All camera functions are fully operable via the analySIS® image-analytical software. No matter what the actual acquisition conditions, real-time functions ensure that the entire dynamic range is exploited. This ensures optimally balanced contrast and superior image quality.
The ColorView I's full integration into the analySIS® software provides all capabilities and advantages of Soft Imaging System's innovative solutions to all challenges of image processing and analysis, ranging from image labeling on to image archiving, report generation and e-mailing and including photo-realistic printouts – all without any need for a darkroom.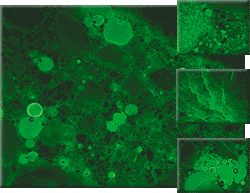 Sample: Flourescence acquisition of concrete
Resolution: 2048 x 1536 pixel x 12 bits
 

High resolution


The

ColorView

 

I

's CCD chip has a 2048 x 1536 pixel resolution. This is more than seven times greater than what a regular video camera can provide. The user sees more and measurements can be carried out with even greater precision.
 

High dynamic range


The

ColorView

 

I

's 12-bit dynamic range provides images of 4096 gray values (or 4096 gray values per RGB channel). So what does that mean? It means that images can be acquired that have either very bright or very pale areas. Ultimately, this higher depth of data reflects a greater depth of information overall.
 

High frame rate


This camera supports three different frame rates. The special "search mode" with a frame rate of more than 25 images per second at 688 x 512 pixels makes finding suitable areas of a sample directly on the PC screen especially convenient. The "focus mode" provides 15 images per second at 1024 x 768 pixels. And thirdly, at the highest resolution – 2048 x 1536 pixels – you're still getting 5 images per second. This means your focusing can be done in real time and upon image acquisition, you have images of temptingly persuasive quality.
 

Color binning


In the search and focus mode, the

ColorView

 

I

uses either triple or double true-color binning. This ensures that the user sees the entire image segment in color while searching or focusing. This guarantees that the user is able to view all images in color independent of the resolution.
 

FireWire™ Interface (IEEE 1394)


FireWire™ technology guarantees that the

ColorView

 

I

can be easily and conveniently installed on any PC or laptop equipped with a FireWire™ port. No extra frame grabber is necessary. This also means the user has the enviable option of using more than one camera with the same PC.
 

Temperatue stabilized


The CCD chip temperature is stabilized to increase the signal/noise ratio.
 

High sensitivity


The highly sensitive CCD elements make it possible to detect even very weak signals. The electronic shutter offers exposure times ranging up to 160 seconds. The

ColorView

 

I

offers exposure time ranging from 100 µs to 160 sec. Details of your sample that had been impossible to see, become readily identifiable. This is just as true for low-intensity applications as well!
 

Black-and-white acquisition mode


Furthermore, the

ColorView

 

I

offers a black-and-white acquisition mode. The resolution of this special mode is restricted to 1024 x 768 pixels. This means you are able to acquire monochrome fluorescence images without having to use a second camera, for example.
 

Compact design


The

ColorView

 

I

's elegantly designed housing is compact and can be mounted onto any light microscope with a C-mount. No additional interfaces or adaptors are necessary.

ColorView

 

I

's integration into analySIS® provides numerous advantages.
 

Real-time functions




ColorView

 

I

's own impressive velocity along with the speed of today's CPU's mean that a whole range of real-time functions are available within analySIS®. One of these is automatic contrast enhancement. Others include automatic white and black balance, focus control and histogram display.
 

Image analysis


An extensive range of text, graphic and editing functions is available for labeling your images. For more extensive examination of images there are specialized filters and professional particle analysis. This ensures that it is easy for you to obtain your results fast and flexibly – and those results are reproducible.
 

The dark room is history


Get printouts of photographic quality immediately following image acquisition. The need for a dark room or all those film-developing chemicals has gone the way of the horse-drawn carriage. As opposed to using conventional film, you obtain printouts of your acquisitions within minutes – and of photographic quality.
A high-performance, networkable, MS-Access-compatible image database is integrated into
analySIS
®.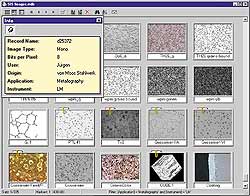 All data relevant to image acquisition and documentation is saved along with the images themselves. Texts, sheets, diagrams or additional images can be saved along with images. The entire database structure is user definable (without the user having to be an expert in computer programming).analySIS® has an extemsive range of text, graphic and editing functions for labeling your images.
Automatic report generation
This means quick and efficient generation of single- or multi-page reports of your results – using the images you've acquired. All you do is select the images you need from your database or from the images manager and drag and drop them onto your report template. Then your report is completed. Along with the image itself, all information contained in database fields is automatically inserted into the corresponding fields of the template. Reports are generated based on templates that you create yourself according to your own personal preferences and/or according to company guidelines.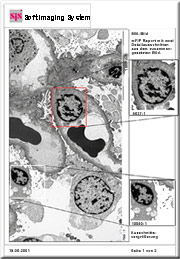 The report generator provides you with a broad range of tools for designing your template(s). All documents supported by the docu expansion version of analySIS® can be inserted into the templates – ie, sheets, diagrams, graphs and images. In addition, automatic image scaling, standard magnifications and exporting reports via RTF format are all supported. And then the completed report can be conveniently e-mailed directly within analySIS®.
Efficient interaction:

ColorView

 

I

and

mia
Use the
ColorView
I
in conjunction with the
mia
analySIS®
add-in and see just how smoothly they interact.
mia
is for obtaining single, high-resolution, large-area images via the automatic montaging of component images.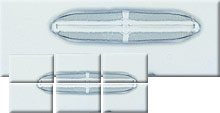 This is tremendously useful in the following situation. You're working with a big object and you want capture all of it at high resolution within one single image. However, the microscope is only capable of showing a portion of it at the resolution desired. No problem. All you need to do is define size and resolution. And
analySIS®
and
mia
take care of the rest.
Software control of all camera functions
 Manufacturer programmable RISC CPU + FPGA via firmware download
 Multi-threading code support on multi-CPU PC
Depending on options, analySIS® expansion level and
 Real-time automatic contrast control
 Real-time automatic white balance
Black balance
Sharpness monitor
Specifications
Image Device
1/1.8 inch Color CCD Sensor
( Effective area 7.1 x 5.3 mm array)
Effective Pixels
2080 x 1544 pixel, 3.45 um square pixels
(1040 x 772 pixel in black/white mode)
Frame Rate
29 fps @ search mode
11 fps @ focus mode
5 fps @ high resolution mode
Binning
2x, 3x
Dynamic Range
3 x 12 bit
Exposure
100 us ~ 10 sec
Pixel clock rate
20 MHz
Readout noise
< 2 counts
Non-linearity
< 0.6%
Anti-blooming
> 300
IR Filter
Hoya CM 500 S (green)
Dimensions (W x H x D)
100 x 85 x 50 mm
Mass
570g
Temperature stabilized
Yes
Interface Connector
FireWire (IEEE1394)
Lens mount
Standard C-mount